Kippers, Queenies (scallops) and Manx lamb I expected, but the sourdough almond croissant was something else: light, sweet and impossible to eat tidily. It was Saturday morning, a few weeks ago, and I was making a fine sticky mess of one in the Isle of Man's capital, Douglas. I was in Noa Bakehouse where Miles Pettit and his team had been baking since 2.30am. Their open kitchen is in the middle of this warehouse-style café and bakery, all scrubbed tables, mis-matched chairs and huge windows.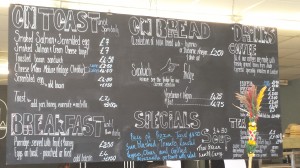 Pettit gave up a Soho-based film production career to open the bakery – specialising in sourdough breads – in 2013 when he moved to the island with his Manx-born wife. Warm and laidback, with a bit of a Californian vibe, Noa – which means 'fresh and new' in Manx Gaelic – was the first of several surprises the Isle of Man threw at me.
There was the landscape which rapidly morphed through several UK styles, from Lake District-like fells to Fenland-flat cereal fields in the north and Cornish coastal cliffs in the south. Yet the island is only 33 miles long by 13 miles wide. Then there were the stars; zillions of them in peerless inky-black skies. Most astonishing was the colour of the sea. I'm used to North Sea steel-grey. Here the sea ranged from denim blue to dark jade to tropical aquamarine. The water lapping Fenella beach at Peel would have given the Caribbean a run for its money.
To be honest, I expected things to be, well, a little old-fashioned. It's true, there are still horse-drawn trams on Douglas promenade and lots of seaside-y guest houses but there are also slick restaurants and interactive museums. And then there is The Arches.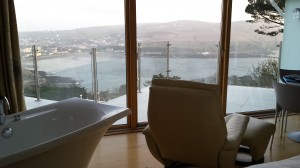 High on the hill above Port Erin, this b&b is like a James Bond lair. Each of the six rooms has peerless views over the bay through floor-to-ceiling windows, and each has a 'wow' factor: blinds you can operate from the bed; a floor-lit bathroom with TV above the bath; or a mezzanine-level Jacuzzi bath with sea views. The living room is a vast, seductive pad with white leather sofa, zebra-striped cushions and customised lighting. Fancy a dip? Head downstairs to the indoor infinity pool. The Isle of Man is seriously groovy.
May 2015