Just back from a country house escape – sounds posh, doesn't it? In truth, my room was in a former pub, which was even better; it nicely set the tone for the weekend – sociable, relaxed and never too far from a reviving drink.
All black beams, sloping ceilings and leaded windows, I was staying in the grounds of Harrington House, a quintessential Georgian house in that most quintessential of Cotswold villages, Bourton-on-the-Water.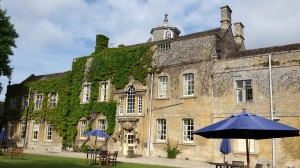 Take honey-coloured stone, a sparkling brook, weeping willows and a broad green; mix in ducks and a sprinkling of creamy tearooms and you've got the picture. Harrington is one of HF Holidays' guest houses and it pretty much has prime position in this Cotswold peach; central but tucked away from the coachload tourists.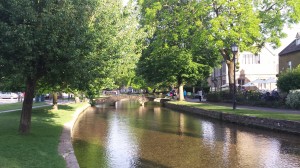 HF Holidays are all about an easy sociability – as little or as much as you like – usually mixed with an organised activity; again, as much or as little as you like. On our stay (I was joined by my cousin) there were people doing landscape painting, others on a cultural and historical tour; the previous week, there'd been guided walking groups and music. (Bridge, photography, yoga, cooking, cycling, mindfulness and singing are just some of the other possibilities HF offers, both at their UK houses and places abroad.) Our 'escape' weekend was more relaxed but we took advantage of the excellent choice of self-guided walks, complete with maps and clear route descriptions.
Saturday I woke to one of those rare, dreamy, English-summer days: peerless blue skies and cotton-wool clouds. We were torn between a decent walk or a stroll round Hidcote gardens, a superb example of Arts and Crafts style, until – oh joy! – we found a walk combining both. After a substantial breakfast, whose options included smoked haddock and eggs Benedict, and having collected our equally substantial packed lunch – including 12 sandwich options, fruit, flapjack, pork pies, trail mix – we headed north 30 minutes to Hidcote.
Our walk took us up gentle hills, across meadows, past cottage gardens and  watery blue flax fields, and rewarded us with horizon-stretching views of the Vale of Evesham and across to the smoky blue Malvern Hills. Lunch was under the oak tree on Ebrington village green in front of a row of thatched cottages.
It was as quaint and chocolate-box perfect as Hidcote was lush and sumptuous. Created by Lawrence Johnston in the early 20th century, the gardens, now owned by the National Trust, are a series of 'rooms' that take you on a dreamy journey from the Bathing Pool Garden to Hydrangea Corner, and from the Pillar Garden to The Wilderness, via unexpected corners and secret vistas. The Red Borders and the Long Borders were my favourite; the former a subtle mix of red-hued leaves and blooms cleverly ending in an arched wrought-iron gate that framed the sky, the latter a riot of voluptuous colours and shapes.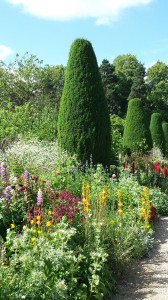 Even better, because we'd arrived after a long walk, the lovely National Trust lady at the entrance gave us a free cup of tea voucher; it's their 'reward' policy.
Restored by a handsome supper – four courses if you want, and we did (excellent local cheeses) – on Sunday we took a circular walk from our base, discovering the quaint and peaceful Norman church at Clapton-on-the-Hill with its open-beamed roof and pews for just 45 people. That evening, we helped our team to a respectable score in the art quiz, despite – or perhaps because of – some rather good Shiraz.
I left the following day feeling I'd had a week's break rather than just a weekend.