Last week I was humiliated. Professionally humiliated. As a travel writer, I've stayed in dozens of hotels, b&bs and pubs. I know how things work – mostly, although showers continue to tax me with their cunningly disguised hot-and-cold, on-and-off controls. I certainly know that room keys (or cards) should be placed in easy-to-remember, safe pockets or bag compartments. Or thought I knew…
Last week, I managed to lose my room key. To make matters worse, while I was scrabbling around, all hot and bothered, I bumped into the owner, James Allison. I was staying at The Coach House at Middleton Lodge, an English county estate in perfectly formed miniature near Middleton Tyas in North Yorkshire. I'd only been there a few hours, during which time James had kindly given up some of his busy time to show me around. It's lovely: all soft grey stone, huge arched windows and pleasing symmetries, and set around a pretty courtyard garden.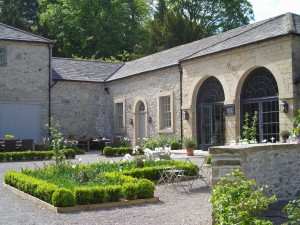 I had to 'fess up. James just waved away my bumbling apologies, we found a spare key and I arrived late for dinner. This place is worth it for the dining room alone. Set in the former stables, open beams and brickwork make a soaring backdrop for a rustic mix of tongue-and-groove panelling and mis-matched tables, poshed up with slate floors and judiciously placed green glassware. The food is standard Modern British but with fun tweaks – potato risotto with the roast cod (my choice; the cod was silky-soft) – and interesting vegetarian options: BBQ leeks with smoked mayonnaise, for instance.  Puddings are rich and gorgeous; my rhubarb, apple and ginger with vanilla pannacotta hit the spot.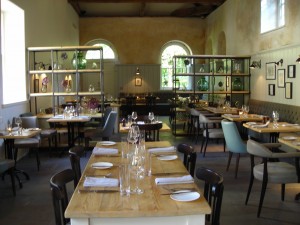 Next morning shone gorgeously sunny and, as a long shot, before breakfast I decided to retrace the woodland walk I'd taken the previous afternoon. Just in case. The bluebells were giving a last hurrah, a squirrel darted up a beech tree, lambs bleated obligingly. But no sign of a key. Almost back at the courtyard, on a whim, I took a small path to my right. And there, glinting in the sunlight was my key. Breakfast that morning never tasted so good.
June 2015